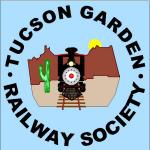 The Tucson Garden Railway Society is a Non-Profit corporation established in 1994 and incorporated in Pima County, Arizona. Members are interested in all areas of garden and modular large-scale model railroading. Members build outdoor layouts at their homes that feature waterfalls, mountains and towns well populated with model people and animals. Some feature special time periods, humor and fantasy.
The club promotes model railroading, preservation of railroad history and railroad safety throughout the Tucson metropolitan area. We have designed, donated, built and continue to maintain several Community project displays thruoughout Tucson. These include the Diamond Children's Hospital, the Tucson Children's Museum, the Rodeo Parade Museum, the Tucson Botanical Gardens and the Southern Arizona Transportation Museum.
We also have a large modular layout that we take annually to the Pima County Fair and the Veteran's Administration Hospital for multi-day displays. In addition we have created a smaller "children's layout" that we take to train shows and children's charity events throughout the year.
As an annual fund raiser, the Tucson Garden Railway Society hosts a
"Rails in the Garden"
open house tour with several of our member families layouts open to the public. Cash donations are accepted and are shared with the Community Food Bank of Southern Arizona.

Click here to see all of the upcoming events at the Southern Arizona Transportation Museum